For Rosamund Lehmann's 107th Birthday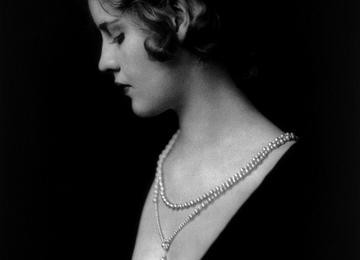 I was born during a violent thunderstorm; and since the date was the third day of February, this disturbance of the elements struck the popular imagination with dramatic force, as being, in the strict sense of the word, phenomenal.
On February 3, Rosamond Lehmann would have turned 107 years old. Although she died eighteen years ago, her work still has the astonishing freshness of a brand-new language. The first book I read was The Ballad and the Source and I could not put it down. Her language is unique. Rebecca West wrote, "She uses words with the enjoyment and mastery with which Renoir used to paint." And Noel Coward once said, "Extraordinary, I've never heard that woman say a stupid thing."
Lehmann was educated at home in a riverside house at Bourne End, Buckinghamshire, and then at Girton College, Cambridge. When she was in her early twenties she wrote her first novel, Dusty Answer, which became a best-seller. Her first marriage to Leslie Runciman began in a bleak ceremony in 1923 and ended as a wretched union. Leslie had declared from the beginning that he did not want children. Rosamond thought she could change his mind after they were married. She was wrong. They divorced in 1927.
In 1928, she married the artist Wogan Philipps, a gifted and attractive man, and they settled at Ipsden House, Oxfordshire. They had two children, but it became an unhappy union and Rosamond dove into many love affairs that were as intense as her books. In 1941, she fell in love with the famous, and married poet, Cecil Day Lewis. In 1943, she divorced Wogan.
But for many years Rosamond and Wogan had been friends with the Bloomsbury group, although not official members. "Virginia," Rosamund wrote about Virginia Woolf, "was supposed to be formidable and unkind to aspiring novelists, but I never found her anything but delightfully stimulating and affectionate. I remember her tapping me on the shoulder at a party and saying, 'Remember, we won this for you' – meaning the freedom to discuss sex without inhibition in masculine society."
Lehmann wrote in longhand, and would rewrite her work until it felt "exactly right"; at that point she would give the pages to a typist. In 1930, her second novel, A Note in Music, was published, quickly followed by Invitation to the Waltz, The Weather in the Streets, and No More Music. The Ballad and the Source came out in 1944; The Gipsy's Baby & Other Stories appeared in 1946, and then The Echoing Grove in 1953. This was to be her last novel for twenty-three years. For most of those years, Rosamond Lehmann was in mourning. In 1958, her beloved daughter, Sally, died of poliomyelitis at the tragically early age of twenty-four.
Lehmann resurfaced to publish A Sea-Grape Tree (1976), bringing together themes from her novel The Ballad and the Source and The Swan in the Evening, her partial autobiography.
She was a beauty. In 1955, Stephen Spender wrote, "Rosamond was one of the most beautiful women of her generation. Tall, and holding herself with a sense of her presence, her warmth and vitality prevented her from seeming coldly statuesque. . . . [S]he was one of those women in whom even graying hair was a kind of triumph, a fulfillment of maturity which her youth had promised."
In 1982 she was awarded the C.B.E. and became a Fellow of the Royal Society of Literature. Although she is not so widely read today, as she deserves to be, her influence lives on in the work of other writers. Ian McEwan gives her credit for influencing, [along with Elizabeth Bowen and Virginia Woolf] his writing of Atonement. I give her the same credit for influencing Broken Colors. So, Happy Birthday Rosamond Lehmann . . . I hope your magnificent writing continues to inspire writers for years to come.
RedRoom.com